in descending chronological order

2021
• Until next spring
For guitars and voice. Composed for the ADevantgarde-Festival 2021.
• South Ice
For clarinet / bass clarinet, violin, violoncello, piano, marimba and percussion. A comission of Ars Musica (Brussels), composed for Ensemble 21.
2020
• Diagonale
For clarinet, tenor saxophone, violin, violoncello and piano. Composed for the Verband Bayerischer Schulmusiker e.V.
2019
• Prime Time

For tenor saxophone, two e-guitars, e-bass and drum set. Composed for Panzerballett.
2016
• Die Stadt

music theatre for jazz singer, mixed choir, synthesizer and drumset, 80 min.
Recording (excerpts)
December 2016, Schwere Reiter Theatre, Munich
Solo singer: Marie Brandis
Press
Süddeutsche Zeitung: Artikel am 07.02.2012
end faq
2013/2014
• This New Ocean

opera in three acts, for 15 instruments (tpt, hn, tba, 4 vln, 2 va, 2 vc, db, pf, e-git, perc), mixed choir, soprano, alto, countertenor, tenor, bass, 110 min. length. More details
Media reports
Münchner Merkur: article on 05/30/2014
On Deutschlandradio Kultur, July 2014: radio report about This New Ocean
On South African television:
end faq
2012
• Habakkuk 3

for two percussionists and electronics - written for the Slovenian Percussion Duo
• Abraxas
for solo organ - written for the International Organ Week Nürnberg 2012
2011
• Schwerer Als Luft
choreographic opera for 12 instruments (ob, cl, bsn, tpt, tbn, vln, vla, vc, db, e-git, 2 perc), male choir, baritone and tenor, 55 min. length
Media reports
Süddeutsche Zeitung, 7 February 2012: article about Schwerer als Luft
On Bavarian public radio Bayern 4 Klassik, 2 February 2012: radio report about Schwerer als Luft
On the news of German public television
(ARD Nachtmagazin), 4 February 2012:

On the news of Bavarian public television
(BR Abendschau), 3 February 2012:
end faq
Documentary film
"Auf den Schwingen des Ikarus" - documentary film by Stefanie Landgraf and Johannes Gulde about the production of "Schwerer als Luft". 85 min. D. 2013 / 60 min. D. 2014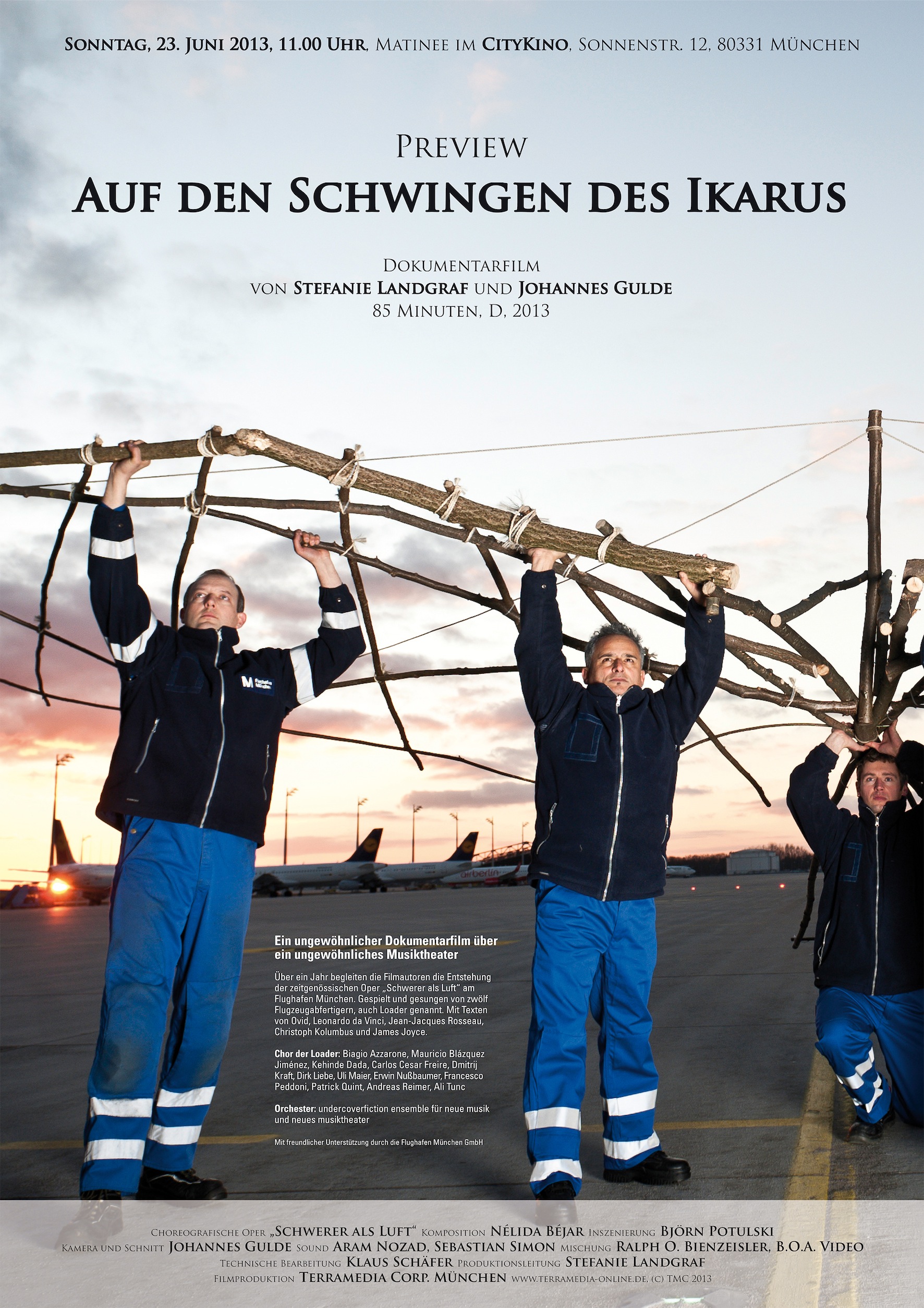 end faq
• Kein Wechsel des Lichts
for piano solo, dedicated to Wilfried Hiller
2010
• Zum Ewigen Frieden - Ein Abgesang
staged requiem for six instruments (cl, bsn, vln, vla, vc, e-bass), children's choir and live electronics, 60 min. length
2009
• Holz
for solo double bass
2008
• Pull Up / Glideslope
electronics - with samples from Munich Airport
• Kern
for 10 instruments
• Stage music for Exodus
for violin and live elektronics
• In der Sonne trage schwarz
for wind octett and double bass - written for the Soloists of the New Chamber Orchestra of Bamberg
2007
• Ausweg
after a painting by Alastair for piano and electronics - written for the Bayerische Alademie der Schönen Künste
• Stage music for Creation
for piano and electronics
• Kilter
for large orchestra
2006
• Sevillanas
for 7 instruments - written for the Ensemble Zeitsprung
• Esperas
for solo piano
2005
• Cortaziana
for baritone and 14 instruments - written for the ensemble De Ereprijs
• Telar
for clarinett, violine, violoncello and piano
• Faber
electronics / musique concrète: music for a video by visual artist Vassilis Salpistis, made of pencil sounds
• Scène
for 14 instruments
2004
• Tell us who
for four saxophones - commissioned by the DoArte-Stiftung for the saxophone quartett Turbine
• Romance de la Virgen y el Ciego
Arrangement of an old spanisch song for five male singers and harp - written for the vocal group Singphoniker
• Zug ab!
for two pianos - written for the piano duo Martina and Kristina Bauer
• Tres danzas para un arpa
for solo harp - written for Irmgard Gorzawski
2003
• Pentagramm
for solo piano
2002
• Nachtschattenklänge
for two pianos and percussion - commissioned by the Gasteig-Preis-Wettbewerb 2002
• So ging ich durch die trüben, bittern Schwaden
after Dante's "Divine Comedy" for flute and marimba - written for the Italian Night 2002, commissioned by Bayerischer Rundfunk
• Fanfare
for four trumpets, four trombones and timbals
• Feuermasken
for piano, percussion and orchestra
2001
• Suite for solo percussion

• 13 Duos for two violins